Psychic Testimonials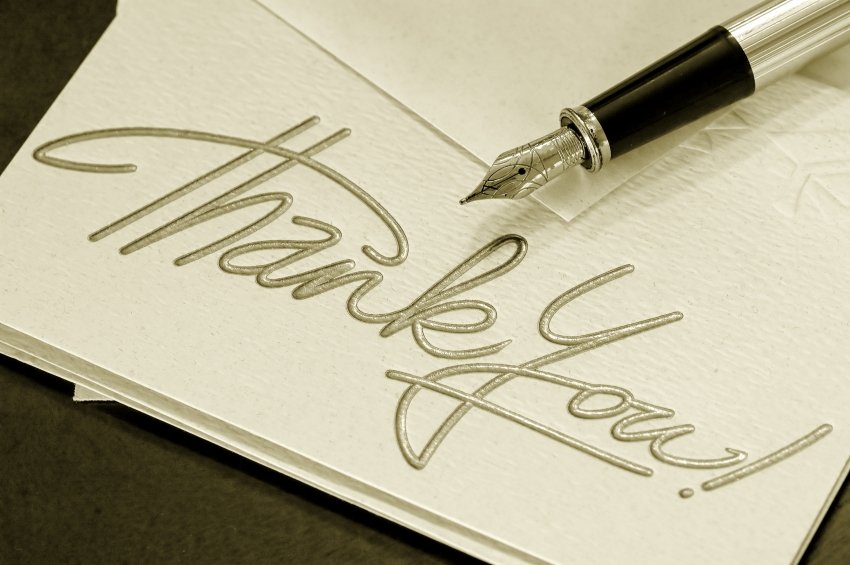 Choosing a real Psychic Medium
The very best way to choose the best psychic (aka fortune teller aka clairvoyant)
or whatever psychic type you choose for your needs
is by way of a referral from someone you know who was satisfied with their reading.
When this information is not available to you,
you must take great care to choose wisely.
Case in point: Even psychic reviews cannot always be relied upon.
Reviews of a psychic can be brought upon by various factors such as:
The psychic just may have had a bad receptive day.
The client may have not been letting go and cooperating.
The client may have wanted to hear good news,
especially about a relationship going bad,
and failing to hear this they most generally make excuses that their reading was bad.
Reviews are even often made by the psychic's competition
who will also fabricate positive reviews for themselves as well.
There are many people who claim to have psychic skills and clairvoyance
and the ability to give accurate psychic readings
by way of their advertising in a countless number of places such as
psychic phone lines, psychic source, ads in magazines, newspapers, television and physics online.
Some of these people have true psychic ability
while most others have no ability at all.
The real Psychics Test
Things to avoid
There are good, ethical, fair and honest psychics,
and the use of their psychic powers that they provide is indeed truly priceless
but you have to know what to look out for.
When exposed to what first appears to be a free psychic reading or a less expensive psychic,
one should be forewarned.
There are some "cheap psychics" who will lure you in to see them
and then use fear, intimidation or other similar tactics
such as telling you that you are under a curse of some sort,
that you need to purchase a love potion when going for a love psychic reading or love tarot reading,
or that you need readings on a regular basis in order to achieve your goals
and they should be completely avoided as they will prove not to be cheap psychic readings.
Readings by a psychic with an unusual name
such as Miss X, Miss Y and Miss Z generally should be avoided.
Genuine psychics are not afraid to use their full real name.
Readings by a psychic who does not provide an actual address
and uses only a post office box likewise should be avoided.
Be suspicious of psychics who perform only psychic readings by phone
and do not have a office practice
or any affiliation with their community
in which they may not be regarded very highly.
Beware of psychic hotlines and doing psychic readings online, online tarot readings and other online scams.
It is best to see a live psychic.
Some Myths
Contrary to popular belief,
psychic abilities are not something which can be randomly turned on and off.
Many subtle factors are involved in the channeling of information.
Sometimes, everything falls neatly into place
and a strong communicative link is established.
At other times, this may not be the case.
The failure to establish or maintain a strong link with the paranormal
can happen as even the best psychics can have a bad day.
You must never judge any sensitive's ability based solely upon one physic reading.
Don't judge a psychic by the cost of their services.
Don't assume that the more you pay, the better the reading will be.
Some celebrity psychics and famous psychics charge outlandish fees,
not because they are better but simply because they can.
And while we are on the topic of fees...
Some people argue that the psychic should share their gift freely with all
but this argument ignores the fact that the psychic also lives
in the same physical world like us that requires the same food, shelter and clothing.
You shouldn't expect psychics to give of their time and talents without payment
as they are indeed providing a worthwhile service.

The above information has been supplied courtesy of...
Valerie Morrison - Psychic Medium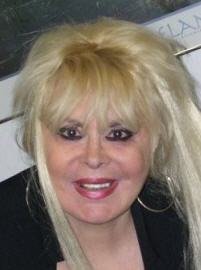 Valerie Morrison is a professional Psychic Medium.
From her Office Practice in Philadelphia near Manayunk,
Valerie has been helping people for over 40 years providing
Private Office Psychic Readings and Phone Psychic Readings
to individuals and celebrities from all over the world,
Her full name and actual address
along with some of her credentials are proudly displayed on her web site.
As a Psychic Medium and a Intuitive Counselor
she has appeared on many local and national television shows including
"Larry King Live" and Court TV's "Psychic Detectives" to name a few.
She is a highly regarded and respected member of her community
with affiliations with many law enforcement agencies,
is a bipartisan supporter of honorable political pursuits
and is engaged in social endeavors which include fundraising and benefits
for our seniors, the ill, those in financial need and our military veterans.
Valerie also provides spiritual psychic readings and is a ordained Interfaith Minister
of "The Church of Ageless Wisdom" in Philadelphia.
Valerie takes her work seriously and as a reputable psychic,
you will never see her entertaining at a party
or other function that mocks the integrity of her profession.
It is important to understand that being a psychic
is not a profession that one chooses to pursue.
Valerie's own particular Psychic Abilities for "Readings" is only though her Psychic Powers.
Valerie does not use a Crystal Ball or use Tarot Cards.
She does not do Tarot Readings or Astrology nor does she read Tea Leaves or read Palms (Palmistry).
Go back to my Home Page
Or continue down to read my psychic reviews and testimonials
Psychic Valerie Morrison's
Reviews & Testimonials

The following are just a few of the many testimonials
sent by email and by letters to Valerie's office
from her many satisfied clients
---
EMAIL TO: &nbsp PsychicValerieMorrison@comcast.net
---
Valerie:
I was recently in to see you for my "yearly check-up" reading to see what is in store for me in 2017.
As usual Philadelphia Psychic Valerie Morrison's Psychic ability continues to help me guide my life, side step any potential obstacles and proceed with clearer decision making.
Thank you so much Valerie Morrison for your sincere and accurate readings!
Rob - Broomall, PA 19008
---
EMAIL TO: &nbsp PsychicValerieMorrison@comcast.net
---
Dear Valerie,
It was so nice to meet you last night. It was a really great experience for me.
Your insights gave me great comfort on all levels, and your accuracy of information was stunning!
I really enjoyed our time together.
Thank you for all your comforting words and a most enjoyable time.
Warmest Wishes,
Maria
---
EMAIL TO: &nbsp PsychicValerieMorrison@comcast.net
---
Valerie-
Thank you so much for your heartfelt and uplifting session with me last month over those devastating issues that were tearing my life apart.
I really appreciate how your psychic perception first determined the genuine fears from the imaginary and then how your therapeutic abilities sorted it all out for me to where it no longer bothers me anymore.
I now see why they call you a Psychic Counselor as you provide more than just a psychic reading to your clients.
You have done more for my mental well-being in one session than my therapist ever did with all the hours I spent (and wasted) with him in the past.
You have truly made my life so much better!
Thank you again!
Dorothy - Vineland New Jersey 08332
---
EMAIL TO: &nbsp PsychicValerieMorrison@comcast.net
---
Comment to Valerie's Office:
I don't remember the exact circumstances but about 15 years ago, Valerie was accepting one question through a magazine or something similar.
She completely flabbergasted me with her response, which was so exactly correct I hadn't even had a clue to the outcome at the time she sent her response.
I have never forgotten that.
Could you please let me know the cost of a Phone Consultation?
Thank you,
Judy
---
EMAIL TO: &nbsp PsychicValerieMorrison@comcast.net
---
Valerie,
I wanted to thank you for my reading last thursday night at your office.
You were beyond belief and yet so respectfully caring.
As you know my grandfather came through when you told me things that only he and I could possibly know, and it was so wonderful to be able to feel his presence once again.
There is no doubt that I will be back to see you again.
Sincerely,
Sophia - South Philly 19148
---
EMAIL TO: &nbsp PsychicValerieMorrison@comcast.net
---
Hi Valerie,
You did a reading for me about 3 years ago, and I was amazed at your accuracy. You even told me things that even people in my family didn't know.
Well, I am at a fork in the road in my life where I need to make a decision. I trust you and I need your guidance once again.
Please let me know your availability.
Thank you so much!
Love,
Noreen - Philadelphia PA 19128
---
EMAIL TO: &nbsp PsychicValerieMorrison@comcast.net
---
Hi Valerie...
It's now been a year since my last visit with you. You were, of course, on target yet again.
So I really feel the need to meet with you for an office visit or speak with you with a phone consul and see if I'm going in the right direction.
My friend, who I brought to you the last time, and I talk about you all the time.
Please let me know what your appointment schedule is like for the next few weeks.
Looking forward to speaking with you again,
Jacquelyn - Levittown PA 19054
---
EMAIL TO: &nbsp PsychicValerieMorrison@comcast.net
---
Good Morning Val,
I don't know if you remember but back when I first met you at the (undisclosed location) we got to talking as I was concerned about not being able to become pregnant.
You told me that you felt I had a tilted uterus.
I checked with my gynecologist as you suggested and she said that this was not indicated anywhere in my file.
This past week, for an unrelated matter, I had to have a biopsy of my cervix. My doctor had a difficult time doing this procedure because she stated that I did in fact have a tilted uterus and you nailed that right on the head.
Thanks,
Lisa
---
EMAIL TO: &nbsp PsychicValerieMorrison@comcast.net
---
In response to Valerie's Newsletter:
Hi Valerie,
I was just thinking about you!
I was so impressed with my time with you.
You must know by now that you have a profound and lasting effect on people. You are truly blessed with your gift.
May I extend my heartfelt wishes to you for lots of success and happiness with your new radio show. I look forward to hearing from you.
Fondly,
Wendy
---
EMAIL TO: &nbsp PsychicValerieMorrison@comcast.net
---
My Dearest Valerie,
Your willingness to give of yourself as you do astounds me.
You are so loving and giving. I didn't think that there was another soul on this earth that I would ever meet with a heart as big as my mom Ruth's, but there is, and it's you!
The gift that you gave to me today in playing my song (that I wrote and sang in tribute to my mother) on your radio show was the biggest gift that you could have ever given to me and certainly was a surprise, just like the surprises that my mom used to do for me.
I love you for making me feel the way she used to make me feel. Thank you...
I feel like God has sent me an angel and that angel is you.
Thank you with all of my heart for being so special and for giving of yourself so freely.
I would love to give you a hug in person sometime and one day be able to give back to you what you have given to me.
May God bless you always and forever and I am eternally grateful to you for sharing your gift.
Love Always,
Nancy
---
EMAIL TO: &nbsp PsychicValerieMorrison@comcast.net
---
Hi Mrs. Morrison,
I read about you in the Weekly Press Newspaper a couple of days ago and would like to thank you for helping so many people with your special talent and I am sorry about what you had to go through the past several years (the loss of your daughter Helen Morrison).
Kristin
---
EMAIL TO: &nbsp PsychicValerieMorrison@comcast.net
---
Dear Valerie,
In the past my Mother and I had an Office Consultation with you and we have always remembered your words to us.
My children came with me and my youngest, around 6 months old, responded to you, much to your surprise and delight.
I am delighted to have found your web site and we both plan on being in touch with you soon.
Debbie
---
EMAIL TO: &nbsp PsychicValerieMorrison@comcast.net
---
Hello Valerie,
I have listened to you for years starting when you were a regular guest on the "Irv Homer Radio Show".
I am so sorry for the lost of your daughter; she was truly a beautiful woman.
It is amazing how you can still share so much love and hope for others after losing such a big part of yourself. You must feel her presence to keep you going in such a wonderful way.
I would like to schedule an Office Appointment so please contact me when you have available office time.
Looking forward to hearing from you.
Take care,
Sandie
---
EMAIL TO: &nbsp PsychicValerieMorrison@comcast.net
---
Hi Valerie:
I just listened to you on your radio show and I wanted to say how great you were, very informative.
I did get a chance to talk to you "on the air" and you are a great inspiration, I knew you came into my life for a reason, you give me hope.
Thank you for giving your fans the opportunity to speak to you without an appointment.
Keep up the good work and God Bless You.
Lots of Love,
Stephanie
---
EMAIL TO: &nbsp PsychicValerieMorrison@comcast.net
---
Good day to you Ms. Morrison,
I saw your episode on "Psychic Detectives" where you helped find the teenage girl that was murdered by her mother.
I don't know you or the girl but I want to say thank you, thank you for getting involved when you didn't have to.
Camille
---
EMAIL TO: &nbsp PsychicValerieMorrison@comcast.net
---
My Dearest Valerie:
There are many Well-Known American Spiritualists.
WETV Cross Country has John Edwards and Montel Williams has Sylvia Browne, but four months ago, I had you all to myself.
Thank you for the telephone consultation, it has really changed my life.
Bless You!
Monica
---
EMAIL TO: &nbsp PsychicValerieMorrison@comcast.net
---
Dear Valerie,
I have always known how good you are at what you do and for a very long time have wanted to see you for an Office Appointment.
I hope that with your very busy schedule we may be able to get together soon.
Please advise as to when your earliest appointment would be available for me.
Thank you,
Loraine
---
EMAIL TO: &nbsp PsychicValerieMorrison@comcast.net
---
In response to Valerie's Newsletter:
Valerie,
Thanks for all of the information and I plan to tune in to your radio show.
Also, thank you for all of your advice and helpfulness!
I plan to make an appointment with you again in the future.
Take care,
Dawn
---
EMAIL TO: &nbsp PsychicValerieMorrison@comcast.net
---
Hello Valerie!
I am a long time Talk Radio fan of yours who has followed your career for what seems like forever.
Years ago I would listen to you from my home in Northeast Philly on WWDB 96.5 FM.
When I moved to Bucks County there you were again as a frequent guest on Evil Irv's Radio Show on WBCB 1490 AM.
Now I have you again on Talk Station WNWR 1540 AM.
I just want you to know how nice it is to hear your broadcasts on the Radio once again, especially now that you have your very own show.
I always enjoyed how you tie your Psychic Intuitiveness in with your views, opinions, and experience with all that life brings to our door.
Bless You!
Eleanor
PS: Say a big hello to your station manager Josh for me; he does a great job!
---
EMAIL TO: &nbsp PsychicValerieMorrison@comcast.net
---
Valerie,
Let me start by saying you were AWESOME last night on Psychic Detectives, and you looked amazing!
We sat up with a bag of chips and listened to you while getting goose bumps all over our bodies.
My cousin also would like me to set a date with you for her.
I also wanted to thank you and let you know how very special you are and how grateful I am to have gotten a chance to have you in my life. I also look forward to seeing you.
Lots of Love,
Jaime
---
EMAIL TO: &nbsp PsychicValerieMorrison@comcast.net
---
Dear Psychic Valerie Morrison:
I would like you to know that you are a very compassionate, generous, and genuine person.
When I have a problem I can't solve, you have always been able to help me. Then I feel like a huge weight has been lifted from my shoulders.
You have connected me with loved ones who have passed on decades ago, much to my delight. You have repeatedly told me things about them that only I could have known.
You are especially skillful with health and medical questions.
We are so lucky to have you, such a remarkable psychic here in Philadelphia. I would highly recommend you to anyone in need of a Psychic Reading.
Marianne S.
West Chester, PA
The following are a few of the many 5 Star Reviews
that have been posted in various places on the web
by Valerie's many satisfied clients

Donald S.
Philadelphia, PA
Psychic Medium Valerie Morrison saved my life - Literally
I had met Valerie Morrison, not as a client, but socially several times in the past.
During the course of one of these social encounters with Valerie she had overheard me complaining to someone about my ribs being sore which I believed was caused by a recent fall I had taken down the steps at my parent's home.
Valerie came over to me, and with her proclamation of our past social encounters now to her a friendship kindly acknowledged and with my privacy assured, respectfully said to me that she believed that there was something else more severally wrong with me and insisted that I immediately get a thorough battery of blood tests taken as a precaution. I of course resisted her notion but with her unwavering and continued gentle persistence, I finally agreed.
When the results were in and with Valerie insisting to be at my side at the specialist's office, the blood work revealed that I was in the final stage of a Bone Cancer with the prognosis of few months of survivability.
I had heard many stories from others about Valerie's unusual attributes as a psychic but I never thought I would come to ever experience it myself first hand.
I discovered later in speaking with Valerie's manager that, in addition to Valerie's other psychic talents, what Valerie had "seen" and "felt" for me about my physical state of health was not unusual as she occasionally will experience this paranormal "sight" and that over the course of her career of many many years she has received letters from doctors puzzled and in awe of those that she referred to them for second opinions with similarly undiscovered hidden ailments that no doubt had saved or extended many lives.
Immediately I underwent 6 months of chemotherapy and bone marrow transplant procedures.
It is almost 2 years ago now since my diagnosis, and while my future survival is still in jeopardy, I owe the extension of my life to Valerie's concerned intervention and I will be forever grateful.
God Bless you Valerie for the risk you took confronting me with your "feelings" that most other non believers might have been angered by and ridiculed you for. You are a true kind hearted and caring soul.

Donna T.
Lansdale, PA 19446
I love this woman! She is truly amazing and I would and did recommend her to everyone. She has great insight and knew things that only I thought I knew. She has helped me and my mom, with personal tragedy and helped us to try and heal. She has lightened our heartache and made us feel more at peace. I cannot say enough about her and her ability as a psychic. She is a wonderful person who has a great gift from God and does amazing things in the world!

Michelle S.
Bryn Mawr, PA 19010
Valerie is a wonderful person. Not only is she a great psychic but a great friend. I had a very ill family member and she reached out to me to see how I was doing. Which was a great feeling to know that you have someone else there.
I have seen her in person and listened to her on the radio. People call back into the radio show just to tell her she was correct about a previous prediction. Its great to hear how she has helped so many people. She is a very special person. I highly recommend her.

George S.
New York, NY
I have always found her psychic ability proven to be very accurate and enlightening as I have seen Valerie Morrison for many years now.
I also value how Valerie always treats you special, regardless of the fact that she has many more clients like me and also counsels many celebrities as well.
Additionally, she leaves you believing much better about yourself, your accomplishments and your abilities.

Mary H.
Norristown, PA 19401
I have been to see Valerie twice in the past 5 years. She gave me a lot of information 5 years ago some current then and some that did not make sense. I will tell you that I took out my notes from 5 years ago and it all made sense now.
I made another appointment to see her this week and once again she nailed it with all my kids via a photo I brought with me. One example is she gave me some insight on an issue that my son was having that I had no idea about and sure enough it was true after sitting him down to discuss her concerns. I can't thank her enough. She is a wonderful person.

Rae M.
Valerie is the best!! I have been seeing her for about well a lifetime. She is always so caring and always on point with everything I need to know and also provides me with counseling when I need it. Have been to other advisors but have had bad experiences.
I feel completely at ease and confident after spending time with Valerie. Love her she's the greatest!!!

Carolyn C.
Los Angeles, California
I have been a client of Valerie Morrison for almost 20 years. She is absolutely fantastic and 100% legitimate. When I was in my early stages of medical training in Philly I would go see her whenever I had challenging circumstances in my life. She is accurate 95% of the time. She has predicted many things that did eventually happen in my life.
Now, as a practicing physician in Los Angeles, I still call Valerie for phone readings at least annually and I always make time to visit and get a reading when I'm back in Philly.
I strongly recommend her.

Jeremy A.
Valerie was the first person in quite a while that made me feel like I was a special person. My goal was to leave with peace, which I got and more. During our time, we had a conversation and I felt quite comfortable with her. I learned a lot about who I am and why I act the way I do.
This was quite a unique and special experience and I highly recommend her to anyone. Not only did I leave with peace and answers but I also left with a friend.

Mary K.
I went to see Valerie when I was in my early twenties for fun with my friends. She told me that I would marry a business type man four years older and have two or three children. Valerie told me that this man would adore me and never cheat on me.
This November I will be married 20 years to my husband who is indeed 4 years older than me and we have two pretty awesome boys. Will be contacting Valerie this year and taking my husband this time! She is a special lady with a sweet spirit.

Irene N.
I went to Valerie last week. Without asking me any questions, she looked at pictures I brought and started rattling off very detailed facts about my family members. She told me things about my deceased mother that very few people know. I was in awe of her abilities and will definitely go to her again.

Tina C.
Philly, PA
For over 16 years I have witnessed and experienced her remarkable psychic abilities all of which have never ceased to amaze me.
In addition to the good things that she "sees" about you, she will advise you of any hurdles along the way that you must avoid.
And because Valerie is more than a Psychic as her title "Psychic Counselor" confirms, with her over 38 years of experience as a Psychic Counselor she also provides her insight on how to neutralize or minimize the hurdles that may face you along the way.
This has allowed me to enjoy and reap the benefits of a more happier, loving and emotionally and financially rewarding life.
Thank you once again Valerie Morrison - Psychic Counselor for your guidance!

Jeff P.
Ambler, PA 19002
I found Valerie's reading extremely insightful. I felt very comfortable in talking with Valerie and found her to be very personable. Many of the key points that she picked out of my life actually really happened. This experience was very positive and I will be returning periodically over the years.

Amanda M.
Browns Mills, NJ 08015
Valerie Morrison is an Angel, I can't think of a better word to describe her.
If you are looking for helpful insight into your life, she is the go-to person.
You have to prepare yourself for what she will say-
Don't be upset or disgruntled if you can't handle the truth, because Valerie only tells you the truth.
Valerie told me my mother had cancer BEFORE MY MOTHER WAS EVEN DIAGNOSED! Was I mad? Yes, I was. I didn't believe it...
Then we found out it was cancer.
Valerie changed my life in many ways and has become a close personal friend because of this.
I trust what she tells me. If you want to realy know what your future has instore for you, she is the real deal.
You will be shocked at her accuracy, and you will appreciate her kindness & support.

Harold F.
North Wales, PA 19454
I have been going to her for years. She's very accurate, not to mention honest.
What amazes me even further is her portfolio...
an accurate description of the Son of Sam killer,
an assassination attempt on President Regan's life,
and our beloved own Mayor Frank Rizzo, all happened.
Countless notes (in her waiting room) from other people saying how thankful they are.

G.L.
Bryn Mawr, PA 19041
I met Valerie last week and had no idea what to expect.
Her reading blew me away with what she had to say about my past (chilling details that could only have come from her natural abilities...)...
A few things were off, but maybe they will come to be true
(she told me my mom has back and leg issues
but currently mom has shoulder and leg issues,
so we will see if she develops back issues!)...
I met a woman in the waiting room...
the woman said she came to Valerie 23 years ago and that everything Valerie predicted came true
(the woman told me everything Valerie had said, it was chilling).
Anyway I believe that she is 100% legitimate, and even my very skeptical parents and brother-in-law agree that everything she said
with the exception of one thing, was right on target.
I took detailed notes the entire time I was there and was speechless at points at what she said - SO specific and SO accurate
and there is no way that intuition can have led her to the things that she said. It was the best $150 I have ever spent...

Armond D.
South Philadelphia, PA 19145
Before you make a appointment to see Valerie Morrison. You have to ask yourself a question, and you have to answer it honestly.
Can you handle the truth or are scared of the truth? She will not tell you what you want to hear. She will tell you the truth.
The truth is hard to accept and often scary.
Valerie Morrison has a genuine gift to see the unknown. She is flat out amazing and accurate.

Loretta M.-P.
Philadelphia, PA 19148
I first met Valerie approximately 5 years ago. My neighbor had recommended that I make an appointment. I was very skeptical.
That lasted about 5 minutes from entering her home. From the moment I stepped into her office she began telling me things about myself, situations and people very close to me. I was AMAZED at her accuracy!
Months later I made another appointment and we have been friends ever since. What amazes me the most is the sense of calm and peace when seeing her. She is spiritual and consoling. She is a good soul that sincerely wishes and prays for the best for all.
I became interested in her after reading a few articles from law enforcement. I was very interested in her and wanted to experience her and I am happy that I did.
I adore her as a friend and spiritual mentor.

Mari C.
Phila, PA 19148
Today was my first visit with Valerie Morrison. 2 1/2 weeks ago my life changed. I was very unhappy. For some strange reason her name popped up in my head. Mind you I had forgotten her since she was on the Richard Bay TV show like maybe somewhere late 70's or could had been early 80's that I saw the show on TV.
Well first I was doubting myself should I or shouldn't I, so I called, left a voice mail. I said to myself well if this is what God wants she will call back. She called the very next day.
She does not ask for any information just my first name and yes my appointment was today that was the longest 3 Weeks for me.
Well getting to the point she is everything and even more than expected. All I did was sit and listen.
How she knew all about me and only to see pictures of people I showed, she was bulls eyes wow!!
Valerie Morrison has that gift from God and she puts it for excellent use. She is also very loving like an Angel. May God keep on Blessing her so she can continue helping others.
Thanks Valerie. Love you Valerie.

Vinny P.
Frederick, MD
I want to commend Valerie for her ability, insight and honesty, and for her sense of ethics and integrity. In addition to being a scientific consultant, I am also a spiritual healer and an intuitive, and because my involvement in the latter endeavors, I am always interested in good psychics. I had heard very good things about Valerie's abilities as a psychic, and so, in early 2014 (at that time I was a total stranger to her), I contacted her and asked to schedule me for a telephone psychic reading.
Surprisingly, because I had expected simply a brief email reply in response to my query, Valerie called me on the telephone the next day for a personal chat. First, she advised me that she would be unable to give me a phone reading because, she said, she had briefly scanned me and had determined that I have no problems or challenges in my life, and also no significant questions, and that I am very happy and healthy, and that my inner life is very "free and clear", and that thus there would be simply nothing of importance to share with me if she were to try to give me a psychic reading. In fact, she said, if she were to give me a psychic reading it would be a complete waste of my money and her time, because she had nothing at all of significance of importance to share with me, not even from her angels and guides, nor from any of my angels and guides.
She explained further that the vast majority of her clients are people who are having problems or challenges in life, and many are people who had lost loved ones or other tragedies and were still grieving, and that another large chunk of her client base is people who had one or more serious questions (i.e., about life, health, work, finances, relationships, etc.) that were nagging them and that they needed assistance in answering or figuring out.
Valerie then asked me what I do, and I briefly explained to her that I am a scientific consultant and also an intuitive and spiritual healer, and we then enjoyed a pleasant and brief chat. In my own work as an intuitive consultant, I tend to accept fewer than 10% of the prospective clients who contact me for intuitive readings, and thus I appreciated all the more the fact that Valerie chose to refuse to give me a psychic reading because of what she (accurately) sensed about me.
The following are
Testimonials from Government Agencies and Local Media
- Liberty Bell Award -
Presented to Valerie Morrison from the Mayor of Philadelphia

Frank Sinatra knew Valerie's Father and many years ago whenever Frank was in town,
to avoid the rush of his fans and to gain back some of his much needed privacy at the hotels,
he would often stay, eat and sleep at her father's house.
Later in life Valerie became a part of Frank Sinatra's entourage
and traveled with him most times when he made his appearances in the Philadelphia and South Jersey area.
She was there for him as his personal psychic whenever he had questions about his career
and also as a favor helped do some of his local bookings for him as well.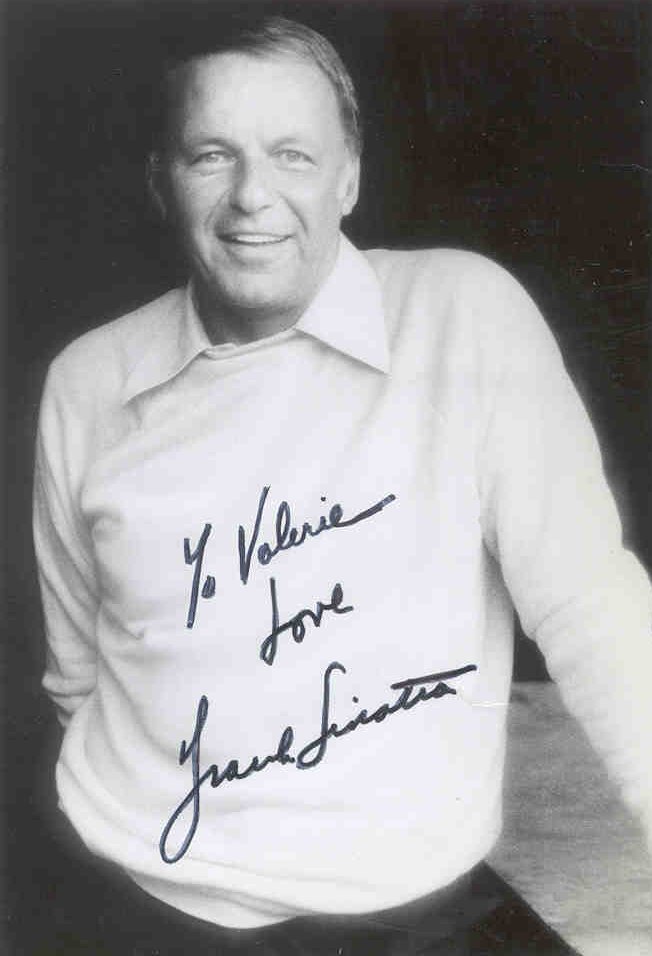 Valerie and Frank and his crew would usually dine at Palumbo's or at Bookbinders
and the seating area would always be "roped off" from all his fans.
As the 1975 Philadelphia Inquirer News Article explains...
Back in 1975 Sid Mark did not believe in Psychics.
He had heard about Psychic Valerie Morrison and while on the air
he skeptically teased her to call in to his Radio Show on WWDB and tell him something about himself
which Valerie Morrison did, down to the blue shirt that he was wearing, while thousands of his fans listened in.
Impressed by Valerie, Sid invited Valerie to become a regular guest on his show thereafter
every second and last Thursday of every month for the next 1-1/2 years.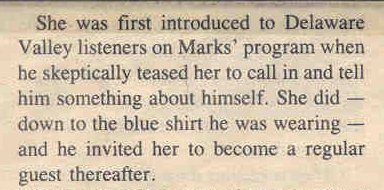 1975 News Article
Thus began Valerie Morrison's Radio Career on WWDB and she later, after this stint with Sid Mark,
was shifted to join other personalities on WWDB as well, beginning with...
Frank Ford (Husband to a very caring and special person: Philadelphia District Attorney Lynne Abraham),
then with Dominic Quinn (What a master of the English language),
and last, and for the longest duration totaling over 30 years, with Irv Homer.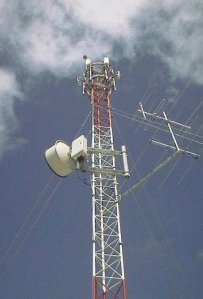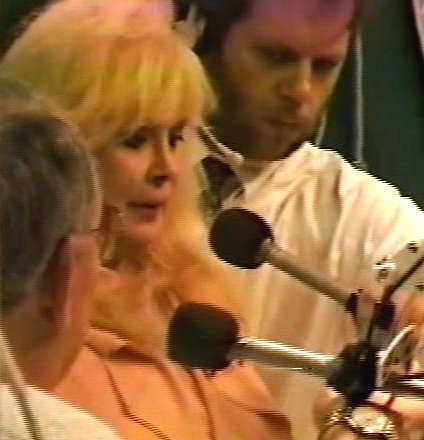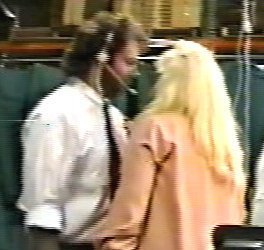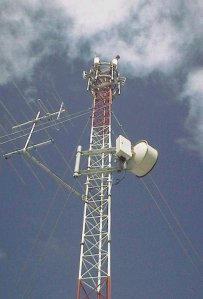 But the story that created all the fuss on Sid Mark's radio show was when...
Mayor Frank Rizzo was a guest on Sid's show and Valerie happened to be listening.
Valerie called into Sid's show and warned the Mayor...
"to be careful, that he would be injured while going away from a blast"
Although Valerie received much doubt and even more criticism from some of the WWDB staff...
One week later an Oil Refinery caught on fire in Philadelphia.
Mayor Frank Rizzo was there at the scene of the inferno
when one of the tanks exploded and...
More than 500* Firefighters worked feverishly for over 2 days to subdue the inferno.
*350 Philadelphia firemen and 150 Atlantic Richfield Company employees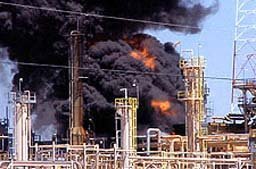 Valerie visited Rizzo in the hospital during his recovery and needless to say,
Frank Rizzo and his wife Carmella befriended Valerie.
Mayor Frank Rizzo awarded Valerie Morrison
Philadelphia's most prestigious honor - The Liberty Bell Award.
Usually only presented to dignitaries and other "important" people
such as past recipients Bob Hope, Nelson Mandela and Morgan Freeman to name a select few,
to say the least, Valerie was deeply honored.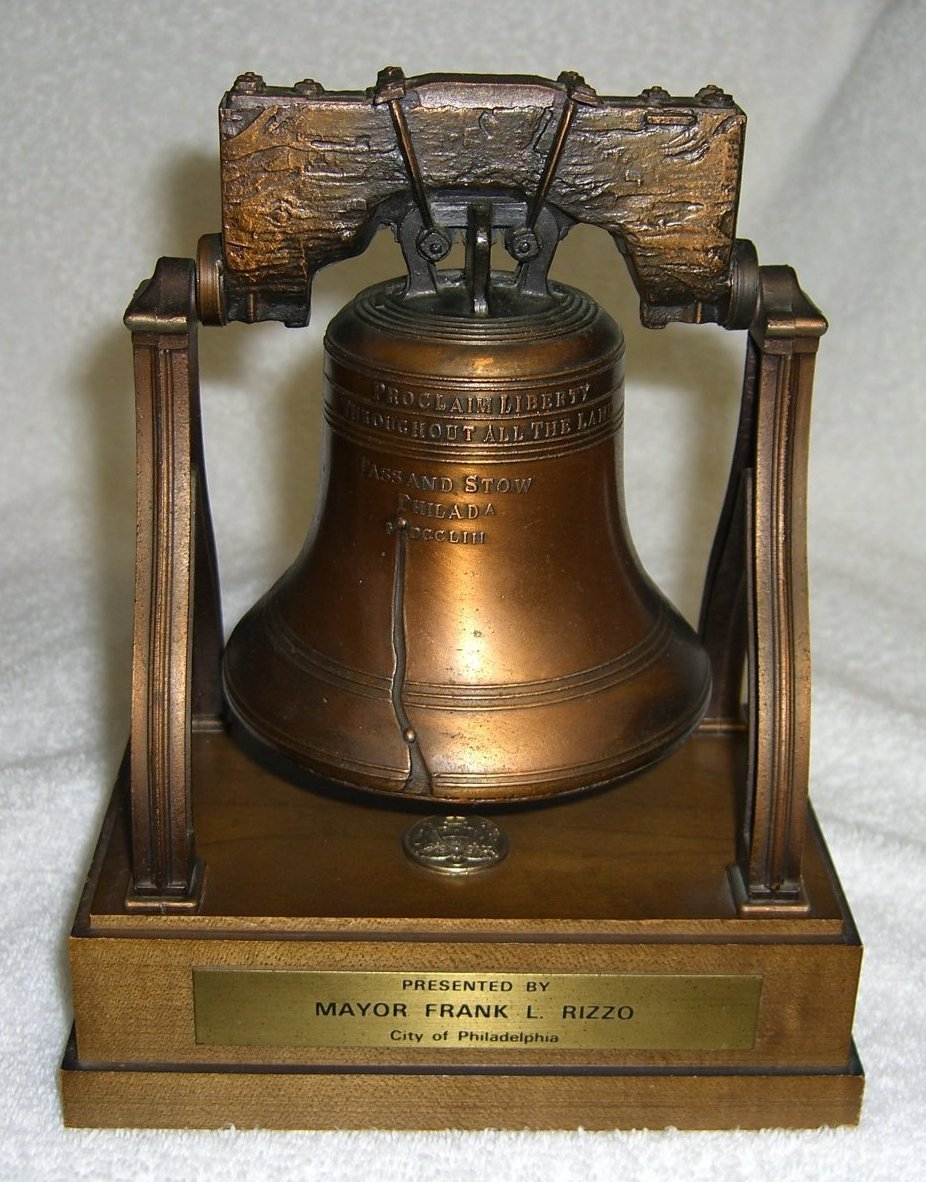 Philadelphia's most prestigious honor - "The Liberty Bell Award"
The highest honor the City of Philadelphia can bestow upon one of its citizens
Presented to Valerie Morrison by Mayor Frank Rizzo


UPDATE March 26, 2014
Mayor Nutter presents Pope Francis "The Liberty Bell Award" at the Vatican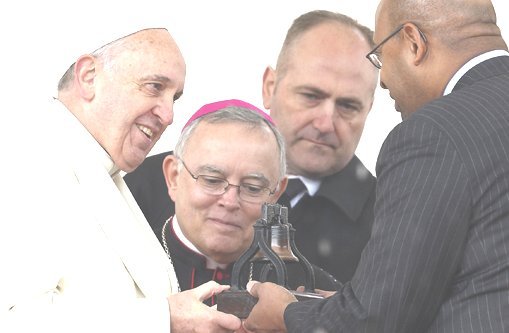 (Click on the picture* - Once to enlarge / Twice to shrink)
* CNS Photo / Paul Haring

and in the years to follow Valerie was invited to many functions with Mayor Rizzo
while often sharing tea with his wonderful wife Carmella at their home.
Later Sid Mark was interviewed and this article was published.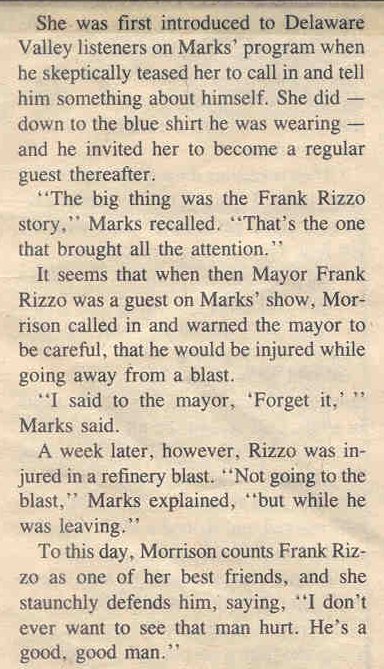 Years later on July 16, 1991 at age 70, Frank Rizzo died.
True to her friendship, Valerie Morrison and her husband Charles were the first to arrive at their home
to offer any assistance and condolences that they could lend to Carmella...
And amid the confusion, the sadness, the disbelief
and the endless procession of people to his home offering their sympathy...
There in the background was Frank Rizzo's pet parrot calling and calling and calling...
"Frank!" "Frank!" "Frank!"
further saddening all his loved ones.
The funeral motorcade that accompanied Frank's body to the cemetery
was over 14 city blocks long and there seemed to be no end to the procession and likewise...
The number of people in Frank Rizzo's life that he had touched.
Rest in peace good friend
Where you are now there is no fire
Valerie Morrison
Psychic Medium
--- Psychic Reading Services ---
Valerie Morrison
Psychic Medium
--- Credentials ---
Valerie Morrison
Psychic Medium
--- Services ---
With Valerie's Psychic Ability and over 40 years of experience with counseling,
Valerie brings to you Guidance for concerns about your...
Loved Ones, Children, Health, Finances, Legal Issues, Relocating,
Business Decisions and of course Living & Departed Family Members.
---
Office Readings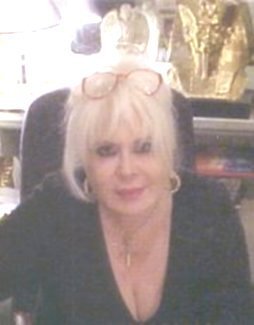 Private Office Readings with Valerie at her Office in Philadelphia are
$125.00 for a one hour session.
The hours for Office Appointments are Tuesday, Wednesday, and Thursday
from 12:00 Noon to 3:30 PM and then again at 7:00 PM to 9:30 PM
with Saturdays reserved for emergencies
or for those that desperately need to see Valerie sooner that her backlog dictates.
For your convenience your appointment may be paid with Discover, Master Card, or Visa.
You may inquire about or make a Private Office Reading appointment by calling (215) 483-8881
or emailing Valerie at: PsychicValerieMorrison@comcast.net
---
Phone Readings
Readings by Telephone are available also for those who are unable to make an Office Visit due to
Poor Health, Distance, Busy Schedule, Inclement Weather, etc.
- Many of Valerie's clients use this method -
- Almost all of Valerie's Readings to Celebrities are done this way -
Readings by Telephone are $125.00 for a one hour session.
Phone Readings are scheduled as conveniently as possible for the needs of her clients.
For your convenience your appointment may be paid with Discover, Master Card, or Visa.
You may inquire about or make a Phone Reading appointment by calling (215) 483-8881
or emailing Valerie at: PsychicValerieMorrison@comcast.net
---

I will try my very best to help you with your concerns.

My hope is that my advice, observations, and my psychic perception
about you and your living and departed loved ones
will make Peace and Happiness always the greatest part of your life.

God Bless,

Valerie Morrison - Psychic Medium
377 Green Ln
Philadelphia, PA 19128
(215) 483-8881
Email: PsychicValerieMorrison@comcast.net Fax: 215-483-7872




For more information about Psychic Valerie Morrison, please click here...
www.ValerieMorrison.com
Copyright 1999-2022 Valerie Morrison - Psychic Medium

Valerie Morrison - Psychic Medium
377 Green Ln
Philadelphia, PA 19128
(215) 483-8881
https://www.valeriemorrison.com/

e3ff9e8d14